Our Quaker Chicken Coop is our best seller and has a classic roofline that optimizes interior space.  External nesting boxes, exceptional ventilation, and ease of customization make this hen house a great choice no matter what level of experience you have with raising chickens.
Our 3' x 4' Quaker Coop Specs at a Glance:
Estimated space for 6 to 8 chickens

Total Height: 70"

Ground to Base Height: 14"

(2) Windows with Screens

(4) Nesting Boxes
Browse the gallery images below to see more photos of options.
Get Your Price
Product Information
Quality Construction Details
Quality Construction Details - Amish-built Chicken Coops
Standard Construction:
Pressure treated legs or runners

LP SmartPanel or Board & Batten pine siding with stain or paint

A different trim color is included with LP SmartPanel

Keyed entry door

Roost: chicken door and ramp

Vent lid or vent

5/8" LP Flooring-with 10 year warranty
Roofing Specifications:
Tech Shield Roofing underlayment and 30 yr architectural shingles w/ aluminum drip edge

Optional metal roofing
Chicken Coop Reviews
Chicken Coop Client Reviews
Dear Erika,
Sometime in the latter part of June I took delivery of my chicken coop. I am very pleased with it. The construction and detail of workmanship is everything I was looking for. It takes a leap of faith in this day and age to order something sight unseen, however I am happy to report that it was delivered as promised.
Dan O - Trappe, MD
---
Dear Kevin,
Thank you for your help with making my chicken coop purchase on 5/6. I'm very excited and I'm sure it will be nice. Let me know if you have any questions about my selections. And thanks to Erikca in customer service for getting some information for me and returning my call. Thanks again... Sandy
Industry Leading Warranty
Lancaster County Barns Warranty
Full Warranty Terms
Lancaster County Barns structures come with a 1 Year Full Warranty top to bottom against manufacturing defects and workmanship.
Limited Warranty Terms
Lancaster County Barns structures come with a 5 Year Limited Warranty on labor, materials, and structural soundness.
Extended Limited Warranty Terms
Lancaster County Barns offers an optional 10 Year Extended Limited Warranty on labor, materials, and structural soundness. The cost is 5% of the structure price with a minimum of $100 and is only valid if paid for at the time of purchase. Please speak with a Sales Representative for more details.
Conditions and Limitations
Building must be maintained properly, as needed, including, but not limited to, repainting/staining, re-caulking, level foundation with proper drainage, and perimeter of base kept clear of leaves, grass and other debris.
 
Movement of building from its original location or alteration to building may void warranty.
 
This Warranty does not include color change arising due to normal weathering, damage resulting from misuse or neglect, commercial use, failure to follow assembly instructions, natural disasters, fire, flood, windstorm, and other causes beyond our control.
 
This Warranty is extended only to the original purchaser. A purchase receipt or other proof of date of original purchase will be required before warranty service is rendered.
 
Notice of failure or defect must be reported to Lancaster County Barns within a reasonable time.
 
Lancaster County Barns reserves the right to discontinue or change components. If a component has been discontinued or is not available we reserve the right to substitute a component of equal quality as may be compatible.
 
In no event will Lancaster County Barns be liable for loss or damage to personal property placed in building. There are no express warranties except as listed above. The Warrantor shall not be liable for incidental or consequential damages resulting from the use of this product, or arising out of any breach of this warranty. All express warranties are limited to the warranty period set forth above.
Claim Procedure
To make a claim under this Warranty, please send a written description of the defect along with your name, address and telephone number to the address below. We may request a photograph of the defect or permission to inspect the building. All repairs will be made within a reasonable time.
Lancaster County Barns
Attn: Warranty Claim Department
930 Red Rose Court - Suite 200
Lancaster, PA 17601
In the event that your structure if found defective, we will repair or replace the defect, at Lancaster County Barns discretion, free of charge.
Guidelines & Year Round Care
Easy Care Tips
Guidelines for Housing
When keeping chickens through the winter, don't forget...
Know your Coop Interior
Interior of A46 & Interior of A33/A44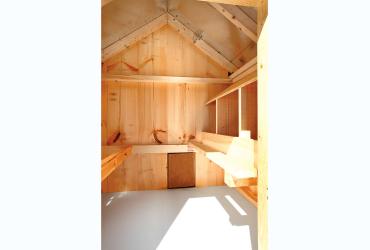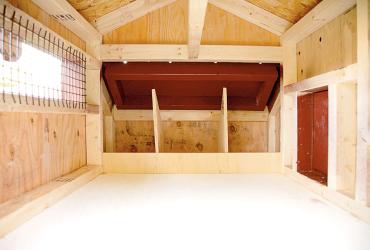 Feed Room View & Interior Chicken Room View of A60/A80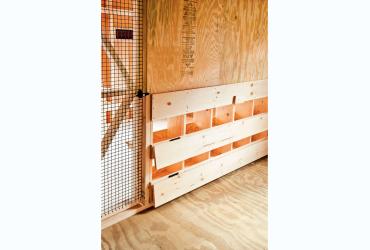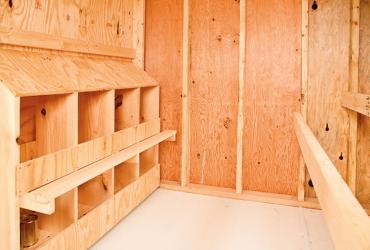 Feed Room View & Chicken Room View of A124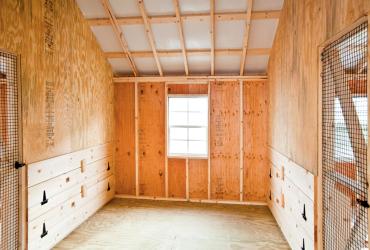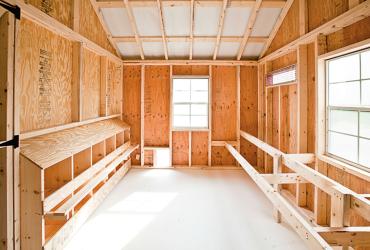 Quaker Interior vs. Dutch Interior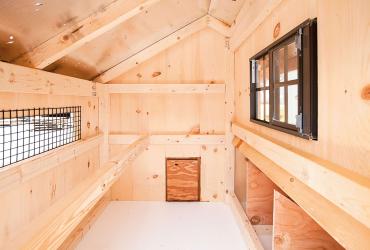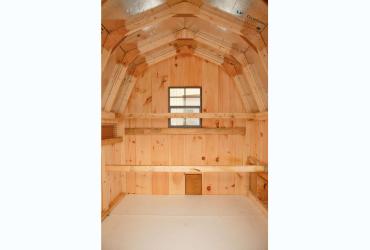 Chicken Breeds to Consider
Rhode Island Red
Buff Orpington
Barred Rock
Americauna
White Leghorn
Common Problems & How to Fix
Feeding Incorrectly
External Parasites (ticks, mites etc)
Red Mites
Broody Hens who refuse to leave the nest
Blocked or Sour Crop
Hen Pecking
Predators and How They Kill
Raccoons
Dogs
Skunks
Hawks
Snakes
Cats
Opossum
Bobcat, Coyotes, and Fox
Other Predators