Custom Fit Storage Solution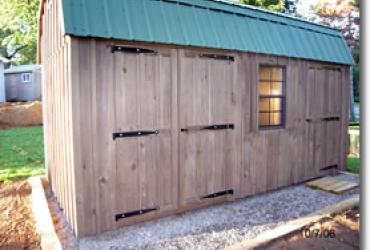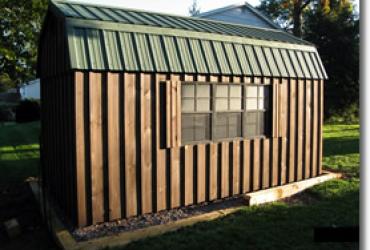 Hello Lancaster County Barns!

I am writing you to say thank you. I always wanted a shed and had planned to build one using the set of plans I had on hand for nearly 55 years. By the time I got desperate for a shed I realized that I needed a shed bigger than the set of plans diagramed.

I knew after one look at Lowes or Home Depot and was convinced that there had to be something better out there. Thanks to an Internet search I found Lancaster County Barns. Your customer service was the best part of the experience. Your process allows the customer to custom build. It isn't possible to depict all of your possibilities in catalog form. Thankfully my customer representative was willing to listen to my ideas and not tell me "no" right away. Erika took the time to explain and research the different options that I wanted and construct the shed that I wanted, not trying to get me to buy one that was sitting on a lot in the middle of nowhere. Her commitment to my needs made me realize that I had made a good choice on where to spend my money. Once I had gotten my sales quote, estimated delivery and floor plan my order went to production and then came the delivery.

I was skeptical about my delivery and a bit anxious about the way it was explained, but the actual installation was excellent. My shed was put down in the heaviest rainstorm of the season. However, my driver did an excellent job to position the shed where I wanted without any mishaps. 

Once I had my shed there was no break in required. The quality construction of the structure made custom fitting a breeze. I am really enjoying my shed.

I was also a little worried about purchasing my shed online without seeing the product that I was buying because my experience has been that you never really know what you are getting until it arrives. When my shed was delivered the quality met my expectations.

The thing that really made the difference in my purchase decision and overall happiness with your product was that it is one of the few genuine quality items still available and made in America. 
I would definitely buy from Lancaster County Barns again and I am so confident in your product that I will be recommending your company to my friends and family.

Thank you
Bob Slaughter
Dream Car Creates Need for Storage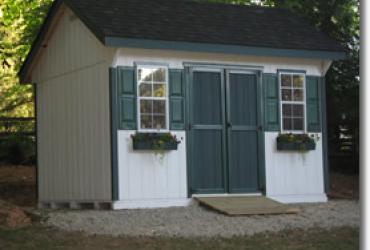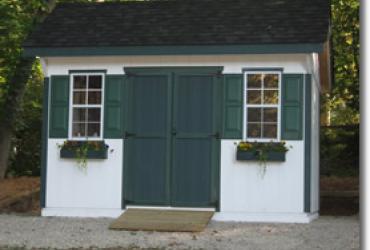 Dear Lancaster County Barns,
We decided that we needed a storage shed when my wife recently bought her "dream car", a convertible. We realized we had no room in our garage to park it in due to the accumulation of 10 years worth of "stuff" the kids and we have outgrown or don't use anymore. We then realized we desperately needed storage space. So I started my hunt to find a shed.

We found Lancaster Barns on the internet. I thought to myself "this is easy; I can shop from home and get what I need."

Once I contacted customer service they were always friendly, responsive and timely. This is one of many reasons why we decided to use Lancaster Barns. Don't get me wrong we looked at other suppliers of sheds of course as I like to get a good deal. We were impressed with the service we received over the phone, the style and choices of sheds offered by Lancaster Barns and frankly, the reputation of the Amish workers who built it for us.

The delivery was pretty flawless. Ben, the foreman, called in advance on the day of delivery to confirm the time and to make sure the directions to our house were accurate. The crew arrived within the hour as promised. When Ben arrived, he introduced himself, reviewed the site and made sure the placement would be exactly as we wanted. He even apologized in advance for any (very minor) broken branches incurred in moving the shed from the truck.

The quality of the shed is excellent. The doors and windows are all in alignment and the "fit and finish" is perfect. We would not only purchase another product from Lancaster Barns, but we have also recommended your company to our friends.

So far, we continue to admire the quality and workmanship of our shed. What we really like about it is that the shed itself is so attractive, it fits into our landscaping. There is no reason to "hide it" in the back yard. Compared to the sheds available from Home Depot, Lowes, etc., this is one big reason we went with your company. Your products, in terms of quality and appearance, are just clearly superior.

The one thing that really impressed me with your company is that everyone delivered on their promises, from the help we received in getting the shed we wanted, to the building crew arriving on time and doing a quality job. 

Thanks again!
Carl & Nancy Frandsen
"Priceless" Client Review
The barn was delivered last week and is sitting next to the shed we purchased at Home Depot. The price difference was about $200. The quality and workmanship - priceless. Thank you so much for the pride you take in the construction of your barns - it shows and is appreciated - I'll contact you when Home Depot's blows down to purchase another.

Also a quick note on your delivery personal - who was very genuine and helpful man and is a reflection on your company.
Kevin & Lucille, Richboro PA
Mountain Top Peace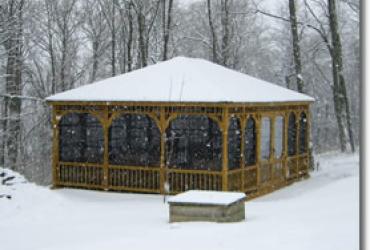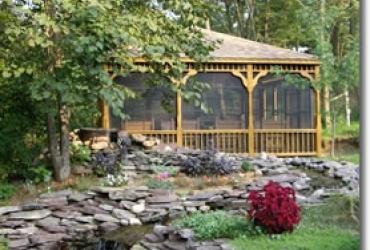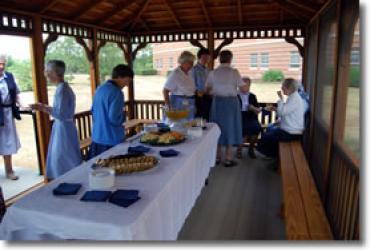 Dear Lancaster County Barns,
I wanted to thank you for my lovely Gazebo. My purchase was to fulfill my desire to have a nice gazebo beside my home on my mountaintop property.
When I first started my search I visited a number of physical sites in the general area to see different models and get some general pricing. I never considered a "big box" store, due to the numerous negative experiences in the past. Also, I sought an organization that used local craftsmen and provided a much higher quality product which I found through Lancaster County Barns. The opportunity to customize my gazebo with so many features was also a big plus.
After visiting local sites I couldn't find exactly what I wanted so I started another search. Who knew that I would find my dream Gazebo on the internet? That's right; I found Lancaster County Barns through an internet search and went from there.
I looked over the detailed website and called into Lancaster County Barns customer service line.
My experience with the customer service was absolutely extraordinary, exceeding all of my expectations. I could either call into Lancaster County Barns or email the representative that was working with me. That's another factor that really made me comfortable with customer service. I had one representative that was working on my Gazebo. I didn't get bounced around from one to another. They answered the phone with genuine sincerity and took time with me to design my dream Gazebo. I desired a few unique features for my gazebo that were not standard and customer service made sure my desires were clearly communicated and executed. They spent time going through the website with me and on their own finding and pricing what I needed. They also followed up in a timely manner and helped me explore financing options that best suited my needs.
When my order was finished and put through to production my customer representative took the time to go over the delivery with me. My first gazebo was built on site. I had no anxiety about this process, but rather looked forward to the skilled craftsmanship provided by the Amish builders. My structure arrived in a kit, with a load of Amish builders and they got right to work unloading and building.
Because of the success that I had with my first Gazebo I subsequently purchased a second gazebo for my place of business to be enjoyed by the religious sisters living in our retirement community.
The quality of both gazebos is extraordinary! I have had many, many tradesmen from various professions (electricians, plumbers, etc.) remark about the beauty and quality of my gazebo.
I have already been a repeat customer of Lancaster County Barns and I will likely be again.
I would absolutely, without reservation recommend Lancaster County Barns products to my friends and family! Its quality and beauty wrapped into one.
Since my Gazebo was built I had one minor issue with the design of my gazebo that resulted in a repair need shortly after it was delivered. I was so very pleased with how Lancaster County Barns responded to my need and resolved the issue quickly and most satisfactorily. It wasn't like other companies that once you buy a product it's yours and yours alone. They stood behind their product and made sure that (I) the customer was satisfied.
My experience with Lancaster County Barns was just an all around fabulous experience; fine craftsmanship, quality materials, friendly people, competitive pricing and exceptional customer service! I would highly recommend them to anyone! Lancaster County Barns gave me my Mountain Top Peace through an extraordinary Gazebo that I love very much!
Thanks Lancaster County Barns!
Sincerely,
Janet B.
Simply the Best...Customer Service.
Dear Walter & Jeremy:

I am writing you this letter to express my deepest appreciation and gratitude for the outstanding "First class" service I have received from your company and your staff of dedicated professionals.

Several months ago I was in the market for a shed that didn't actually look like a traditional shed, but rather a small cottage type structure. I live in the Fort Washington, Maryland (Southern Maryland) area, and there are quite a few manufacturers and distributor's here in my area however; all of the structures they produce look like "Sheds with windows".

While on the internet pondering one day I happen to come across your website and was amazed by what I saw; never before had I ever come across structures labeled as (Sheds) with the level of detail provided in your structures. It was mind-blowing, they're absolutely "Adorable" and I just had to have one.

Living so far away from your site and not having the ability to actually take a look-see, had me a little nervous in the beginning, however; all my fears and concerns quickly dissipated after talking with Kevin and Julie (Sales reps) who guided me through every step of the ordering process. They both were two of the most courteous and professional sales folks I have ever come across.

The shed that I ordered (12x20 Elite Victorian) arrived on 11-June-2008, exactly as promised. I am still reeling from the superb craftsmanship and the level of detail put into this piece. It truly exceeds what I was expecting to see... "Honestly".

Just when I thought this customer service experience couldn't get any better, I was again "Blown away" with the professional staff of delivery guys. These guys were "Awesome". The care and precision they used handling and anchoring the shed was phenomenal.

I have a similar project scheduled for next year and there's no question which company I'll be purchasing my structure through.

Lancaster County Barns "You're simply the best".

Sincerely,
Malanio Lipscombe