Specific Use Sheds
An Amish-crafted shed from Lancaster Barns doesn't have to be used just for storage. It can be customized to suit your specific needs.
Are you looking for a backyard studio, home office, or workshop shed? Or maybe a custom carport to protect your vehicle? Thinking about a cabin shed with a porch? Sheds from Lancaster Barns are designed for endless possibilities. Below are a few popular uses for sheds from Lancaster Bans.
Backyard Studio Shed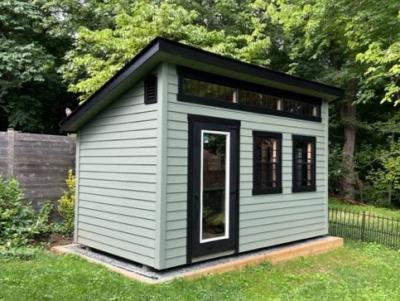 If you or someone in your household has a hobby that requires a lot of physical space or you're just looking for a place where you can relax or be creative, then a backyard studio shed might be a great option.
Here are a few examples of how you can utilize a studio shed:
An outdoor studio shed could be the perfect space for yoga or meditation practice. Create a custom design with large windows to let in lots of natural light and choose natural materials and soft colors to create a peaceful tone.
A small shed with a porch could accommodate a personal art studio. Enjoy plenty of storage for art supplies inside the porch shed and set up a small work area near the windows to get inspired by the outdoors.
With the right lighting and placement on your property, a large shed with a porch can be fitting for a greenhouse or garden shed. Use the space for storing gardening tools, bags of soil, flowerpots, sprinkling cans, hoses, and other accessories. You can even set up a workstation for planting and potting. 
Crazy for the cottage shed design? This style of shed can be adapted to a variety of uses. Set up a crafting/DIY space, she shed, or reading nook. Or create a studio shed with bathroom and kitchen – the ultimate guest cottage that can serve as extra space for visitors.
Home Office Shed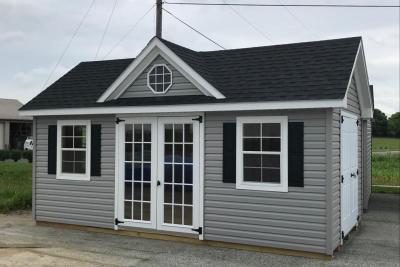 As we know, the work-from-home trend took off in 2020. And although some people have returned to their regular office environment, many still work remotely – whether it's full-time or just a few days a week.
The popularity of remote work has brought about a need for dedicated home office space, and an increasing number of people are investing in work from home sheds – sometimes called shed quarters.
Whether you're looking for a small outdoor office or a larger outdoor office space, there are many benefits to setting up an office in a shed:
Better work-life balance. Having a separate workspace helps keep a clear boundary between your work life and personal life. Just leave your outdoor office shed at the end of your day and disconnect from your work world.
Greater productivity. An outdoor office shed gives you peace and quiet. It's an environment removed from the daily distractions of home, so you can get focus more easily and get more done.
Versatility. A home office shed can serve multiple purposes. When you're not using it as a workspace, it can function as a hobby space, workout spot, or a place for evening and weekend relaxation.
Tax benefit. Depending on your location and tax laws, you might be eligible for tax deductions related to your home office shed.
Workshop Shed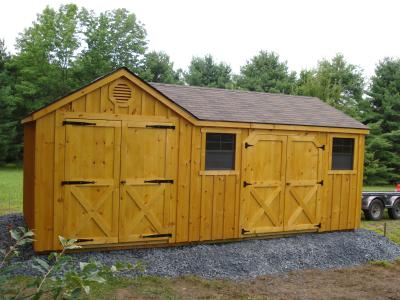 Have a backyard workshop idea? Let Lancaster Barns design a custom workshop shed for whatever your need – from crafting and DIY projects to metalworking or woodworking.
Whether you're a hobbyist or a professional, a workshop in a shed provides you with a dedicated space to pursue interest, complete projects, and most importantly carry out your activities without disrupting the living space in your home.
If you're planning to invest in a workshop shed, consider these features and keep in mind the main purpose of your shed:
Basic layout. Your shed layout should be designed for maximum workflow and efficiency. Consider the best location for your most important shed features such as a workbench or tool storage. A good layout will help with the overall function of the space.
Safety features. To ensure your safety and the safety of others near you, remember to implement good safety measures once your shed is installed. Make sure you have proper storage for hazardous materials, use personal protective equipment (PPE), and always have a fire extinguisher and first aid kit on site.
Work surfaces. A worktable or workbench is usually at the heart of your workshop shed, especially a woodworking shed. Ensure you have the right kind of work surfaces installed to ensure the durability and safety of your space.
Ventilation. Depending on your shed workshop idea and the type of work you'll be doing, proper shed ventilation can be extremely important. Installing the right type of windows, doors, and vents will help dissipate fumes, dust, and odors.
Get Started on Your Shed Today
All sheds from Lancaster Barns are custom-built by local, skilled craftsmen using the highest quality building materials. We ship structures worldwide – yours could be next!
Connect with our design experts today and get started on designing a custom shed that's uniquely yours.