Client Reviews
Simply the Best...Customer Service.
Dear Walter & Jeremy:

I am writing you this letter to express my deepest appreciation and gratitude for the outstanding "First class" service I have received from your company and your staff of dedicated professionals.

Several months ago I was in the market for a shed that didn't actually look like a traditional shed, but rather a small cottage type structure. I live in the Fort Washington, Maryland (Southern Maryland) area, and there are quite a few manufacturers and distributor's here in my area however; all of the structures they produce look like "Sheds with windows".

While on the internet pondering one day I happen to come across your website and was amazed by what I saw; never before had I ever come across structures labeled as (Sheds) with the level of detail provided in your structures. It was mind-blowing, they're absolutely "Adorable" and I just had to have one.

Living so far away from your site and not having the ability to actually take a look-see, had me a little nervous in the beginning, however; all my fears and concerns quickly dissipated after talking with Kevin and Julie (Sales reps) who guided me through every step of the ordering process. They both were two of the most courteous and professional sales folks I have ever come across.

The shed that I ordered (12x20 Elite Victorian) arrived on 11-June-2008, exactly as promised. I am still reeling from the superb craftsmanship and the level of detail put into this piece. It truly exceeds what I was expecting to see... "Honestly".

Just when I thought this customer service experience couldn't get any better, I was again "Blown away" with the professional staff of delivery guys. These guys were "Awesome". The care and precision they used handling and anchoring the shed was phenomenal.

I have a similar project scheduled for next year and there's no question which company I'll be purchasing my structure through.

Lancaster County Barns "You're simply the best".

Sincerely,
"Priceless" Client Review
The barn was delivered last week and is sitting next to the shed we purchased at Home Depot. The price difference was about $200. The quality and workmanship - priceless. Thank you so much for the pride you take in the construction of your barns - it shows and is appreciated - I'll contact you when Home Depot's blows down to purchase another.

Also a quick note on your delivery personal - who was very genuine and helpful man and is a reflection on your company.
- Kevin & Lucille, Richboro PA
Custom Fit Storage Solution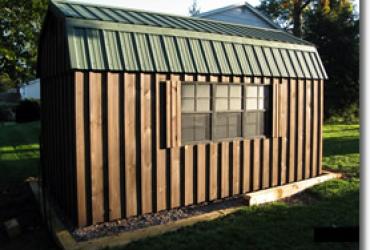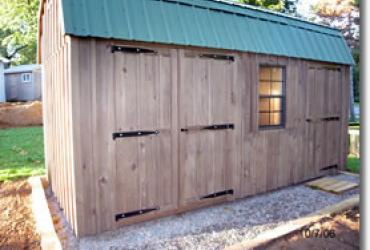 Hello Lancaster County Barns!

I am writing you to say thank you. I always wanted a shed and had planned to build one using the set of plans I had on hand for nearly 55 years. By the time I got desperate for a shed I realized that I needed a shed bigger than the set of plans diagramed.

I knew after one look at Lowes or Home Depot and was convinced that there had to be something better out there. Thanks to an Internet search I found Lancaster County Barns. Your customer service was the best part of the experience. Your process allows the customer to custom build. It isn't possible to depict all of your possibilities in catalog form. Thankfully my customer representative was willing to listen to my ideas and not tell me "no" right away. Erika took the time to explain and research the different options that I wanted and construct the shed that I wanted, not trying to get me to buy one that was sitting on a lot in the middle of nowhere. Her commitment to my needs made me realize that I had made a good choice on where to spend my money. Once I had gotten my sales quote, estimated delivery and floor plan my order went to production and then came the delivery.

I was skeptical about my delivery and a bit anxious about the way it was explained, but the actual installation was excellent. My shed was put down in the heaviest rainstorm of the season. However, my driver did an excellent job to position the shed where I wanted without any mishaps. 

Once I had my shed there was no break in required. The quality construction of the structure made custom fitting a breeze. I am really enjoying my shed.

I was also a little worried about purchasing my shed online without seeing the product that I was buying because my experience has been that you never really know what you are getting until it arrives. When my shed was delivered the quality met my expectations.

The thing that really made the difference in my purchase decision and overall happiness with your product was that it is one of the few genuine quality items still available and made in America. 
I would definitely buy from Lancaster County Barns again and I am so confident in your product that I will be recommending your company to my friends and family.

Thank you