Client Reviews
10 Stars for Lancaster Barns
We are absolutely thrilled with Lancaster County Barns. I'd give 10 stars if I could. We live in central NJ. At first we wanted a shed so we looked around locally but didn't find anything we really liked. I found Lancaster Barns online. I really liked the look of the sheds but I was a little hesitant to order something like that online. We decided to go for it. Erika is the absolute best. She's friendly and incredibly helpful. Two young, extremely polite men came and had our shed built in one day. It was gorgeous and high quality work. 
We decided to build a detached garage the following year. We had our architect draw up plans for exactly what we wanted. A garage with a large recreation room above. We were shopping for local contractors but we weren't super thrilled. I thought of Lancaster Barns. I spoke to Erika, sent her our plans and that was that. We had a crew of extremely nice, polite, talented craftsmen come, and in 2.5 days they had our gorgeous garage finished. They built exactly what we designed even with our custom finishes. It turned out beautiful. Not only was it a great experience and terrific craftsmanship, they worked with our very difficult township inspectors and since they build some of the walls in their facility, the wood was pristine. If you're looking for something special, you can definitely trust Lancaster Barns to do an awesome job for you!
Happy Horses
My horses are so incredibly happy, and Elmer's work is so beautiful.  The grooming stall is so nice that I am not even going to use it for baths - I am building an outdoor wash stall instead. I am so happy with the barn and Elmer's work. I really, really love the barn and cannot thank you and Elmer enough.
 
Mountain Top Peace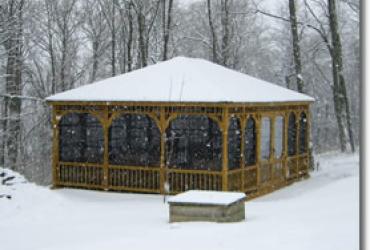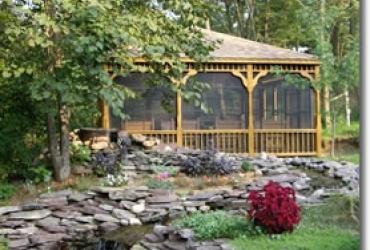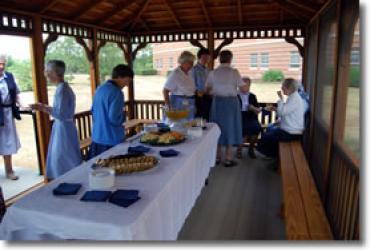 Dear Lancaster County Barns,
I wanted to thank you for my lovely Gazebo. My purchase was to fulfill my desire to have a nice gazebo beside my home on my mountaintop property.
When I first started my search I visited a number of physical sites in the general area to see different models and get some general pricing. I never considered a "big box" store, due to the numerous negative experiences in the past. Also, I sought an organization that used local craftsmen and provided a much higher quality product which I found through Lancaster County Barns. The opportunity to customize my gazebo with so many features was also a big plus.
After visiting local sites I couldn't find exactly what I wanted so I started another search. Who knew that I would find my dream Gazebo on the internet? That's right; I found Lancaster County Barns through an internet search and went from there.
I looked over the detailed website and called into Lancaster County Barns customer service line.
My experience with the customer service was absolutely extraordinary, exceeding all of my expectations. I could either call into Lancaster County Barns or email the representative that was working with me. That's another factor that really made me comfortable with customer service. I had one representative that was working on my Gazebo. I didn't get bounced around from one to another. They answered the phone with genuine sincerity and took time with me to design my dream Gazebo. I desired a few unique features for my gazebo that were not standard and customer service made sure my desires were clearly communicated and executed. They spent time going through the website with me and on their own finding and pricing what I needed. They also followed up in a timely manner and helped me explore financing options that best suited my needs.
When my order was finished and put through to production my customer representative took the time to go over the delivery with me. My first gazebo was built on site. I had no anxiety about this process, but rather looked forward to the skilled craftsmanship provided by the Amish builders. My structure arrived in a kit, with a load of Amish builders and they got right to work unloading and building.
Because of the success that I had with my first Gazebo I subsequently purchased a second gazebo for my place of business to be enjoyed by the religious sisters living in our retirement community.
The quality of both gazebos is extraordinary! I have had many, many tradesmen from various professions (electricians, plumbers, etc.) remark about the beauty and quality of my gazebo.
I have already been a repeat customer of Lancaster County Barns and I will likely be again.
I would absolutely, without reservation recommend Lancaster County Barns products to my friends and family! Its quality and beauty wrapped into one.
Since my Gazebo was built I had one minor issue with the design of my gazebo that resulted in a repair need shortly after it was delivered. I was so very pleased with how Lancaster County Barns responded to my need and resolved the issue quickly and most satisfactorily. It wasn't like other companies that once you buy a product it's yours and yours alone. They stood behind their product and made sure that (I) the customer was satisfied.
My experience with Lancaster County Barns was just an all around fabulous experience; fine craftsmanship, quality materials, friendly people, competitive pricing and exceptional customer service! I would highly recommend them to anyone! Lancaster County Barns gave me my Mountain Top Peace through an extraordinary Gazebo that I love very much!
Thanks Lancaster County Barns!
Sincerely,