The Standard Modular Vinyl A-Frame Garage comes standard with 7' walls and a 5/12 roof pitch and (2) non-insulated garage doors.  The standard garage doorway opening is square or 45 degree angles.  We offer the overall look in all our garage siding materials as well as what is displayed on this page. 
Feel free to call us and we will help you design a garage that has doors and windows positioned perfectly for your dream space. Upon order we make a floor plan diagram showing you the window and door locations.
Get Your Price
Product Information
Quality Construction Details
Quality Construction Details - Amish-built Garages
16" on center (#2) 2"x4" wall studs

7' walls with 5/12 roof pitch
6'6" walls with Dutch Barn

6' walls with 7/12 roof pitch

5-1/2' walls with 9/12 roof pitch

16" on center rafters
12" on center pressure treated floor joists
Pressure treated 4x4 shipping rails
Double 2"x4" header

1/2" plywood walls with vinyl overlay

4" straight lap and dutch lap vinyl profiles available standard

Cedar impressions vinyl and color matches are also available upon request

Contact our staff for options and pricing

30 year architectural shingles

One single door (36")

NO OSB
Your Choice:
5/8" plywood flooring/ LP ProStruct Flooring with SmartFinish

1/2" plywood sub-roofing or 1/2"

LP TechShield
Garage Door and Window Details:
12" overhang above garage door

(1) or (2) non-insulated garage door(s) included based on garage size

8'x7' with 10' wide and 9'x7' with 12' and 14' wide

(2) 18"x36" or (2) "24x36" windows included based on garage size

Other window sizes available
Additional Options/Upgrades:
Rounded, angled or square garage door openings are available

Double floor thickness

Increased wall height and roof pitches with

kit or on-site assembly are available

Add tar paper as moisture barrier under shingles

2"x6" pressure treated floor joists

8" on center pressure treated floor joists

3/4" pressure treated floor

Insulated garage doors

Double bubble floor insulation when temperature controlling
Frequently Asked Questions
Frequently Asked Questions
Buying a shed can be and intimidating experience if it is your first time.  Don't hesitate to ask a lot of questions.  We look forward to them!
How do I know which receiving option is right for me?
What does a full assembled delivery look like?
Is it cost effective to ship a fully assembled structure to my delivery site?
How are the kits shipped?
What if I have no construction experience and do not feel comfortable assembling a kit?
What is a BUILD ON SITE?
What kind of truck delivers a fully assembled building?
What is your Warranty?
Do I need a Foundation?
Upon order how long does it take till I can receive the structure?
What are my payment options?
Do you have any past clients I can talk to or online reviews?
Do I need a permit?
What is the best was to contact Lancaster County Barns?
Delivery Options
Choose from (3) Delivery Options
Fully Assembled Structures delivered and dropped in place with the use of a truck-trailer and shed mover. Open unobstructed Access is needed for this delivery style. Within 300 miles this is usually the least expensive delivery. 
Kit Form for you to construct. This will require carpentry experience by the assembler.
Assemble On site by our Carpentry Crew. Please call our helpful staff if this delivery is preferred so we can calculate a price based on style & distance.
When choosing the on site assembly or kit form delivery options, taller walls and roof pitches are available. Feel free to call for details options and pricing.
Industry Leading Warranty
Lancaster County Barns Warranty
Full Warranty Terms
Lancaster County Barns structures come with a 1 Year Full Warranty top to bottom against manufacturing defects and workmanship.
Limited Warranty Terms
Lancaster County Barns structures come with a 5 Year Limited Warranty on labor, materials, and structural soundness.
Extended Limited Warranty Terms
Lancaster County Barns offers an optional 10 Year Extended Limited Warranty on labor, materials, and structural soundness. The cost is 5% of the structure price with a minimum of $100 and is only valid if paid for at the time of purchase. Please speak with a Sales Representative for more details.
Conditions and Limitations
Building must be maintained properly, as needed, including, but not limited to, repainting/staining, re-caulking, level foundation with proper drainage, and perimeter of base kept clear of leaves, grass and other debris.
 
Movement of building from its original location or alteration to building may void warranty.
 
This Warranty does not include color change arising due to normal weathering, damage resulting from misuse or neglect, commercial use, failure to follow assembly instructions, natural disasters, fire, flood, windstorm, and other causes beyond our control.
 
This Warranty is extended only to the original purchaser. A purchase receipt or other proof of date of original purchase will be required before warranty service is rendered.
 
Notice of failure or defect must be reported to Lancaster County Barns within a reasonable time.
 
Lancaster County Barns reserves the right to discontinue or change components. If a component has been discontinued or is not available we reserve the right to substitute a component of equal quality as may be compatible.
 
In no event will Lancaster County Barns be liable for loss or damage to personal property placed in building. There are no express warranties except as listed above. The Warrantor shall not be liable for incidental or consequential damages resulting from the use of this product, or arising out of any breach of this warranty. All express warranties are limited to the warranty period set forth above.
Claim Procedure
To make a claim under this Warranty, please send a written description of the defect along with your name, address and telephone number to the address below. We may request a photograph of the defect or permission to inspect the building. All repairs will be made within a reasonable time.
Lancaster County Barns
Attn: Warranty Claim Department
930 Red Rose Court - Suite 200
Lancaster, PA 17601
In the event that your structure if found defective, we will repair or replace the defect, at Lancaster County Barns discretion, free of charge.
Past Client Reviews
Custom Fit Storage Solution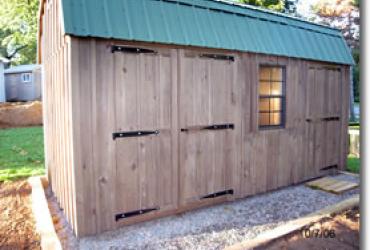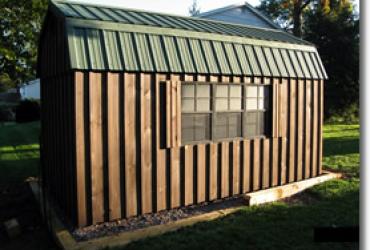 Hello Lancaster County Barns!
I am writing you to say thank you. I always wanted a shed and had planned to build one using the set of plans I had on hand for nearly 55 years. By the time I got desperate for a shed I realized that I needed a shed bigger than the set of plans diagramed.
I knew after one look at Lowes or Home Depot and was convinced that there had to be something better out there. Thanks to an Internet search I found Lancaster County Barns. Your customer service was the best part of the experience. Your process allows the customer to custom build. It isn't possible to depict all of your possibilities in catalog form. Thankfully my customer representative was willing to listen to my ideas and not tell me "no" right away. Erika took the time to explain and research the different options that I wanted and construct the shed that I wanted, not trying to get me to buy one that was sitting on a lot in the middle of nowhere. Her commitment to my needs made me realize that I had made a good choice on where to spend my money. Once I had gotten my sales quote, estimated delivery and floor plan my order went to production and then came the delivery.
I was skeptical about my delivery and a bit anxious about the way it was explained, but the actual installation was excellent. My shed was put down in the heaviest rainstorm of the season. However, my driver did an excellent job to position the shed where I wanted without any mishaps. 
Once I had my shed there was no break in required. The quality construction of the structure made custom fitting a breeze. I am really enjoying my shed.
I was also a little worried about purchasing my shed online without seeing the product that I was buying because my experience has been that you never really know what you are getting until it arrives. When my shed was delivered the quality met my expectations.
The thing that really made the difference in my purchase decision and overall happiness with your product was that it is one of the few genuine quality items still available and made in America. 
I would definitely buy from Lancaster County Barns again and I am so confident in your product that I will be recommending your company to my friends and family.
Thank you
Bob Slaughter
Dream Car Storage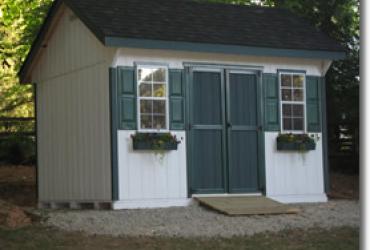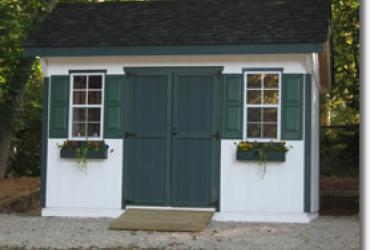 Dear Lancaster County Barns,
We decided that we needed a storage shed when my wife recently bought her "dream car", a convertible. We realized we had no room in our garage to park it in due to the accumulation of 10 years worth of "stuff" the kids and we have outgrown or don't use anymore. We then realized we desperately needed storage space. So I started my hunt to find a shed.
We found Lancaster Barns on the internet. I thought to myself "this is easy; I can shop from home and get what I need."
Once I contacted customer service they were always friendly, responsive and timely. This is one of many reasons why we decided to use Lancaster Barns. Don't get me wrong we looked at other suppliers of sheds of course as I like to get a good deal. We were impressed with the service we received over the phone, the style and choices of sheds offered by Lancaster Barns and frankly, the reputation of the Amish workers who built it for us.
The delivery was pretty flawless. Ben, the foreman, called in advance on the day of delivery to confirm the time and to make sure the directions to our house were accurate. The crew arrived within the hour as promised. When Ben arrived, he introduced himself, reviewed the site and made sure the placement would be exactly as we wanted. He even apologized in advance for any (very minor) broken branches incurred in moving the shed from the truck.
The quality of the shed is excellent. The doors and windows are all in alignment and the "fit and finish" is perfect. We would not only purchase another product from Lancaster Barns, but we have also recommended your company to our friends.
So far, we continue to admire the quality and workmanship of our shed. What we really like about it is that the shed itself is so attractive, it fits into our landscaping. There is no reason to "hide it" in the back yard. Compared to the sheds available from Home Depot, Lowes, etc., this is one big reason we went with your company. Your products, in terms of quality and appearance, are just clearly superior.
The one thing that really impressed me with your company is that everyone delivered on their promises, from the help we received in getting the shed we wanted, to the building crew arriving on time and doing a quality job. 
Thanks again!
Carl & Nancy Frandsen