The Steeper Pitch Modular Vinyl A-Frame Garage provides a custom look with a more cost effective delivery.  Access to your site, wall heights and roof pitches will determine whether it can be delivered fully assembled or partially assembled. If you are pouring a concrete slab and using the slab as the floor, please let us know, it now goes from a modular to a full on site assembly. 
The standard garage doorway opening is square or 45 degree angles.  We offer the overall look in all our garage siding materials as well as what is displayed on this page. 
Feel free to call us and we will help you design a garage that has doors and windows positioned perfectly for your dream space. Upon order we make a floor plan diagram showing you the window and door locations.
Get Your Price
Product Information
Quality Construction Details
Quality Construction Details - Amish-built Garages
16" on center (#2) 2"x4" wall studs

7' walls with 5/12 roof pitch
6'6" walls with Dutch Barn

6' walls with 7/12 roof pitch

5-1/2' walls with 9/12 roof pitch

16" on center rafters
12" on center pressure treated floor joists
Pressure treated 4x4 shipping rails
Double 2"x4" header

1/2" plywood walls with vinyl overlay

4" straight lap and dutch lap vinyl profiles available standard

Cedar impressions vinyl and color matches are also available upon request

Contact our staff for options and pricing

30 year architectural shingles

One single door (36")

NO OSB
Your Choice:
5/8" plywood flooring/ LP ProStruct Flooring with SmartFinish

1/2" plywood sub-roofing or 1/2"

LP TechShield
Garage Door and Window Details:
12" overhang above garage door

(1) or (2) non-insulated garage door(s) included based on garage size

8'x7' with 10' wide and 9'x7' with 12' and 14' wide

(2) 18"x36" or (2) "24x36" windows included based on garage size

Other window sizes available
Additional Options/Upgrades:
Rounded, angled or square garage door openings are available

Double floor thickness

Increased wall height and roof pitches with

kit or on-site assembly are available

Add tar paper as moisture barrier under shingles

2"x6" pressure treated floor joists

8" on center pressure treated floor joists

3/4" pressure treated floor

Insulated garage doors

Double bubble floor insulation when temperature controlling
Frequently Asked Questions
Frequently Asked Questions
Buying a shed can be and intimidating experience if it is your first time.  Don't hesitate to ask a lot of questions.  We look forward to them!
How do I know which receiving option is right for me?
What does a full assembled delivery look like?
Is it cost effective to ship a fully assembled structure to my delivery site?
How are the kits shipped?
What if I have no construction experience and do not feel comfortable assembling a kit?
What is a BUILD ON SITE?
What kind of truck delivers a fully assembled building?
What is your Warranty?
Do I need a Foundation?
Upon order how long does it take till I can receive the structure?
What are my payment options?
Do you have any past clients I can talk to or online reviews?
Do I need a permit?
What is the best was to contact Lancaster County Barns?
Delivery Options
Choose from (3) Delivery Options
Fully Assembled Structures delivered and dropped in place with the use of a truck-trailer and shed mover. Open unobstructed Access is needed for this delivery style. Within 300 miles this is usually the least expensive delivery. 
Kit Form for you to construct. This will require carpentry experience by the assembler.
Assemble On site by our Carpentry Crew. Please call our helpful staff if this delivery is preferred so we can calculate a price based on style & distance.
When choosing the on site assembly or kit form delivery options, taller walls and roof pitches are available. Feel free to call for details options and pricing.
Foundation Guide
Recommended Site Preparations
Lancaster County Barns is not responsible for site prep. Your town may have specific requirements for shed size, placement or foundation etc., if not, here are some suggestions: (Please feel free to call, place a sales quote, at no cost, and we will provide a floor plan and specs upon your request. This provides you with documentation to supply your town if permits are necessary.)  If you would like to contract a professional, we recommend you contact BedRock Siteworks - www.bedrocksiteworks.com
Pressure Treated Shipping Rails
Your structure may be placed directly on the ground due to the pressure treated 4x4s. It is important to leave an air space under the floor so as NOT to trap moisture.
Stone Pads
Your structure may be set on a 4" to 5" deep pad of 3/4" Clean or 2B stones (3/8" to 1/12"). This is stone without powder/dust mixture. The reason is that the dust eventually washes away and may cause additional settling. In order to inhibit weeds and deter moisture, we recommend that the stone perimeter extend 12" beyond your structure perimeter. Do not store mulch or topsoil against the side of your structure. A stone pad can be installed by framing with landscape timbers or 4x4s and then filling flush with stone, or by digging out 4" of soil and installing ground level stone.
Concrete Blocks
If your structure is 10x12 or under you can set it on concrete blocks, blocking should not extend more than 6" out of the ground. In order to avoid a large step into the shed, we recommend you use 2" or 4" concrete blocks or dig the blocking into the ground near ground level. These may sink over time and your shed will then be unlevel.
Sonotubes/Concrete Forms
8"-18" wide concrete piers. These need to be set below frost level, just above ground level and level to one another. Ask your town for any recommended spacing. At minimum we suggest the 4 corners and one in the center. (See foundation rails on our spec sheets for placement and speak to our sales staff to make sure the tube placement will work for the delivery process.) Gravel is recommended between tubes.
Concrete Pads
Your structure may be set on a concrete pad. When installing your concrete pad, keep your pad as close to ground level as possible.
Proper Care
Given proper care your structure will exceed its lifespan. Moisture is the enemy. Airflow is the solution. Do not set anything against the exterior of your structure for extended periods of time. Do not plant flowers, shrubs, or trees directly next to your structure.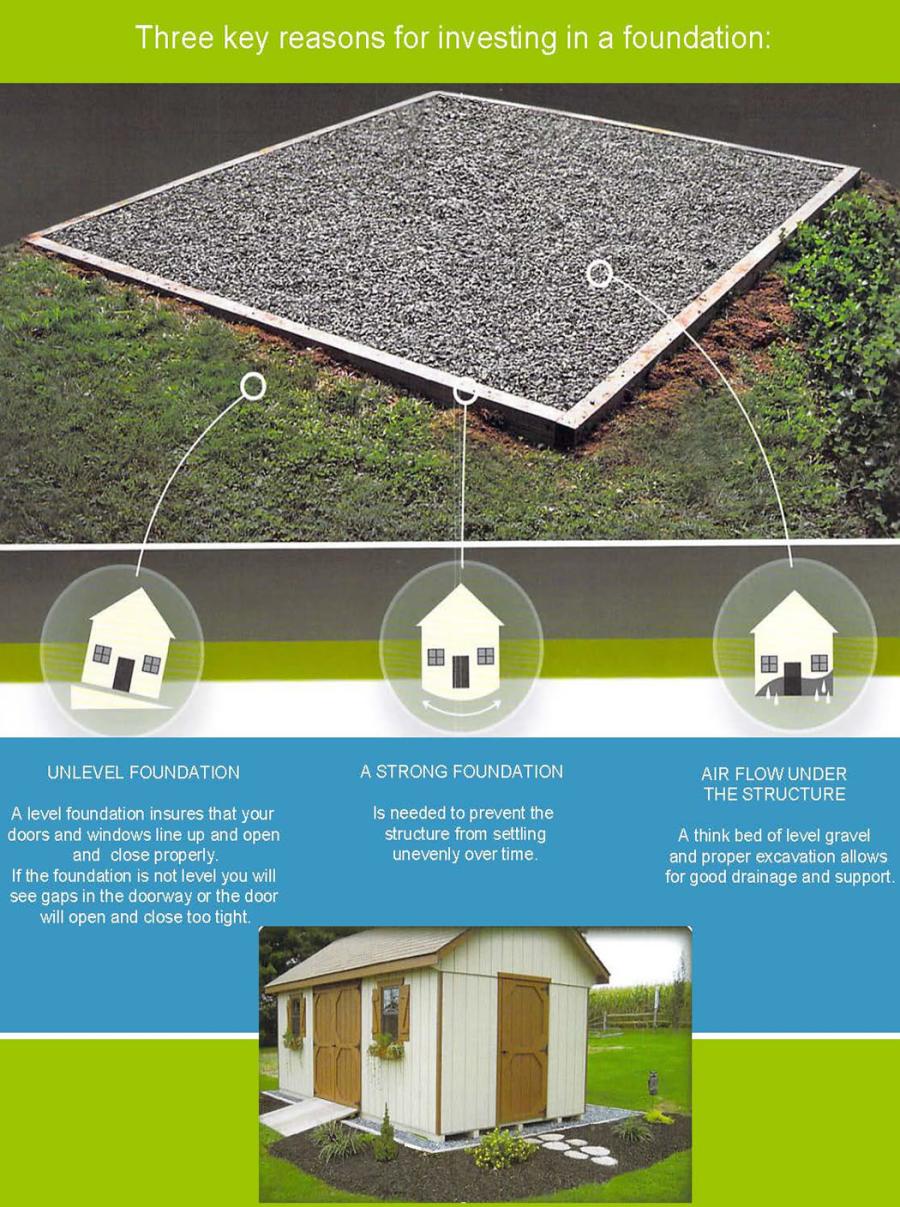 Industry Leading Warranty
Lancaster County Barns Warranty
Full Warranty Terms
Lancaster County Barns structures come with a 1 Year Full Warranty top to bottom against manufacturing defects and workmanship.
Limited Warranty Terms
Lancaster County Barns structures come with a 5 Year Limited Warranty on labor, materials, and structural soundness.
Extended Limited Warranty Terms
Lancaster County Barns offers an optional 10 Year Extended Limited Warranty on labor, materials, and structural soundness. The cost is 5% of the structure price with a minimum of $100 and is only valid if paid for at the time of purchase. Please speak with a Sales Representative for more details.
Conditions and Limitations
Building must be maintained properly, as needed, including, but not limited to, repainting/staining, re-caulking, level foundation with proper drainage, and perimeter of base kept clear of leaves, grass and other debris.
 
Movement of building from its original location or alteration to building may void warranty.
 
This Warranty does not include color change arising due to normal weathering, damage resulting from misuse or neglect, commercial use, failure to follow assembly instructions, natural disasters, fire, flood, windstorm, and other causes beyond our control.
 
This Warranty is extended only to the original purchaser. A purchase receipt or other proof of date of original purchase will be required before warranty service is rendered.
 
Notice of failure or defect must be reported to Lancaster County Barns within a reasonable time.
 
Lancaster County Barns reserves the right to discontinue or change components. If a component has been discontinued or is not available we reserve the right to substitute a component of equal quality as may be compatible.
 
In no event will Lancaster County Barns be liable for loss or damage to personal property placed in building. There are no express warranties except as listed above. The Warrantor shall not be liable for incidental or consequential damages resulting from the use of this product, or arising out of any breach of this warranty. All express warranties are limited to the warranty period set forth above.
Claim Procedure
To make a claim under this Warranty, please send a written description of the defect along with your name, address and telephone number to the address below. We may request a photograph of the defect or permission to inspect the building. All repairs will be made within a reasonable time.
Lancaster County Barns
Attn: Warranty Claim Department
930 Red Rose Court - Suite 200
Lancaster, PA 17601
In the event that your structure if found defective, we will repair or replace the defect, at Lancaster County Barns discretion, free of charge.