Each Lancaster County Barns customer comes to us with a unique vision of the design for their shed and how they would like to incorporate the custom outdoor structure into their property. Below are a few testimonials from customers who had positive experiences with us when purchasing a custom shed!
"Lancaster County Barns' passion to give us quality material and workmanship is off the charts. They were so patient with me after changing my design several times. I can't thank the staff and owner enough. I can't wait for my next project because Lancaster County Barns is a company that understands how to take care of families and their clients. God bless all of them."
Sean
"I highly recommend Lancaster County Barns for a custom shed build. Their communication was always easy and efficient. The quote was accurate, and the product is exceptional. The delivery was flawless, and they were able to position it in a tight spot."
Evan
"I committed to Lancaster County Barns after spending a good amount of time researching shed builders in the southeastern PA area. I connected with Kevin Schultz, who was invaluable in his guidance during the design phase. I appreciated Kevin's patience and honesty (no upselling). I worked with Amy Leonard next, who coordinated my build-on-site (very long and twisty driveway). Amy was always polite and highly responsive. The actual builders arrived on time, did a terrific job, and left the construction site clean. I highly recommend this company."
Thomas
If you are unsure about what kind of shed will best suit your needs, we offer a convenient storage visualizer with our online shed designer tool. After choosing your favorite shed style, click and drag items onto the layout to see how they would fit in your future space. Items include lawn and garden tools, vehicles, bikes, toys, and more! Visit design.lancasterbarns.com to start designing your dream shed today, and don't forget to utilize the storage visualizer feature!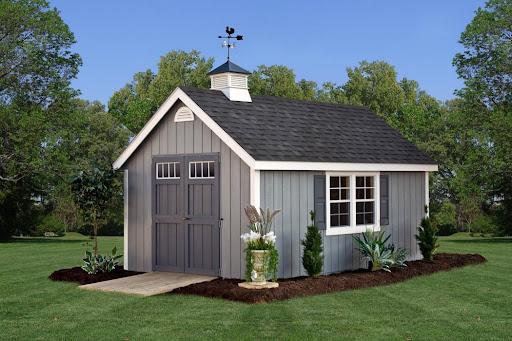 If you are interested in adding a structure to your property, talk with our design experts at Lancaster County Barns to build a custom shed that's uniquely yours. Contact us at lancasterbarns.com/contact-us to begin the process and book your spot for spring!