Customers who purchase a shed or other structure from Lancaster Barns will have a variety of material options to choose from. And it's important to note that there isn't one best shed material! Your choice of material depends on factors like budget, aesthetics, and intended use.
Climate conditions should also be taken into account when selecting materials for a shed, as some materials are better suited for certain environments and weather conditions.
No matter what shed material you choose, Amish-built sheds from Lancaster Barns are designed and quality manufactured in Pennsylvania and can be delivered within a 300-mile radius of Lancaster, PA.
Popular Shed Materials
One of the first steps to shed ownership is determining the style of shed you want. The next step is choosing your siding material. 
Lancaster Barns carries a wide variety of siding materials – each of which will give you a unique look and protect the contents inside the structure. Below are some of the most popular shed materials offered.
Vinyl Siding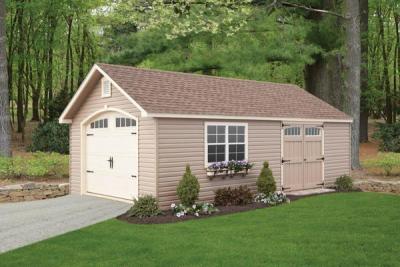 Vinyl siding is a great choice because it's weather-resistant and requires minimal maintenance. It won't easily rot or crack and is also resistant to pest and insect damage. Vinyl material also requires no painting and comes in lots of colors.
Lancaster Barns craftsmen use 4" straight lap and Dutch lap vinyl in their shed construction.
Board & Batten Siding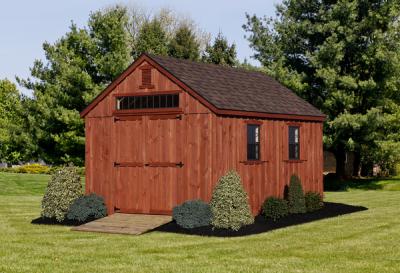 Board and batten siding offers a classic look and real wood feel to any shed. Also called barn siding, board, and batten is a traditional vertical siding style that goes well with a number of different shed rooflines. 
We offer board and batten sheds in sizes ranging from 8' x 8' to 12' x 40'.
Metal Sheds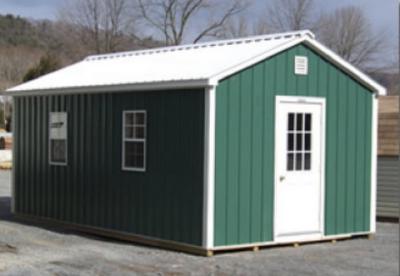 Metal is another durable, low-maintenance siding option. It's suitable for different types of sheds and will keep its look for years. 
Lancaster Barns constructs its metal sheds with high-strength 29 gauge ribbed metal siding. Customers can choose from an A-Frame or Quaker roofline and sizes ranging from 8' x 8' to 12' x 40'. Larger sizes are available by request.
Stone Siding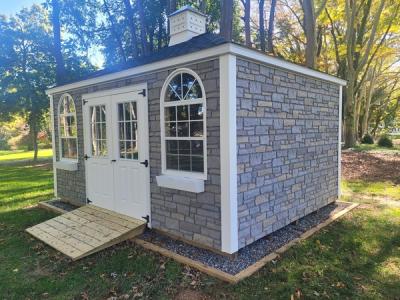 Want a shed with a timeless, solid look? Consider stone veneer siding. It's lightweight and easy to install, and considerably less expensive than natural stone. And with the right maintenance and upkeep, it can last for years. 
Combining stone siding with board and batten, log, or LP lap siding can create a unique look for any A-Frame, Quaker, Victorian, or Salt Box Shed. 
Rough Cut Wood or Log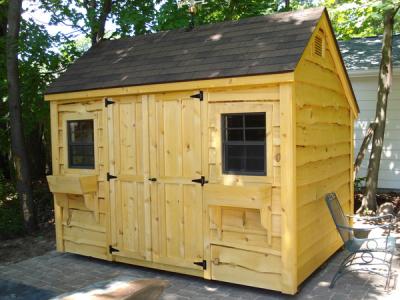 Wood is known for its natural beauty, so it's no surprise that it's one of the most traditional shed materials around. 
Our rough cut wood or log siding offers a natural look on any type of shed. It's available in rustic and natural pine log siding as well as Heritage lap siding which is manufactured from rough-hewn kiln dried with pine.
Like many of our sheds, our real wood sheds come in multiple styles and rooflines. 
Other Shed Material Options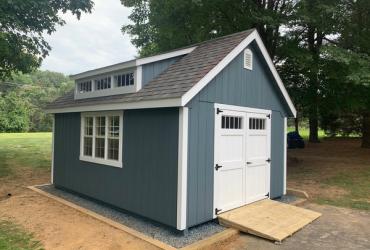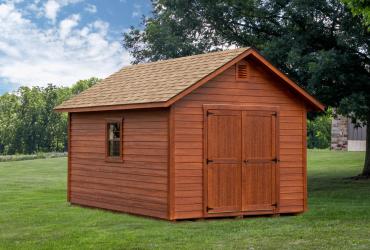 Some other siding options that are worth mentioning are LP Lap siding and Painted DuraTemp T1-11 siding.
LP Lap siding features SmartGuard technology and is an engineered lumber siding that has a realistic wood grain look that mimics real cedar cladding. 
Our DuraTemp siding is considered one of our most economical and flexible options. You can go several years in between painting it, and the siding can easily be color matched to complement existing structures on your property. 
Which Shed Fits Your Needs?
Talk to our team today about the benefits of owning a Lancaster Barns shed. Connect online or call (717) 553-0300. We service customers throughout PA, NJ, MD, DE, VA, and NY and would love to serve you next.