Client Reviews
Where do I Begin?
I had to work the day that the pavilion arrived so my husband chronicled the event in pics. From the time the guys arrived early to start the project to the end was AMAZING. They worked from start to end effortlessly and with purpose in drizzle and rain. At the end they cleaned the area and left me with a beautiful pavilion that I showed to my family and friends proudly. Without a doubt it was the best choice to come to you again to help be with my outdoor venture. I might add I had quotes for similar pavilions and you came well below the other quotes!
Thank you again so much!!!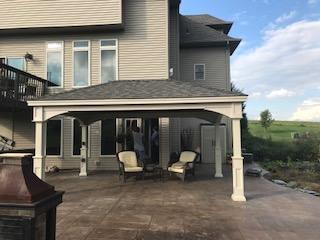 Fantastic, Knowledgeable, and Patient
I cannot say enough good things about Lancaster county barns. We purchased a 14x28 pavilion for our pool and had it assembled on site. Erica was fantastic, knowledgeable, and patient. The quality of the pavilion is top-notch. The crew that assembled it did a great job and knocked the whole thing out in a day. Everyone who comes over walks right past the pool to check out the pavilion. I was nervous about spending so much money on a product that I couldn't see in person, but it was an absolute home run. If you're considering any purchase from Lancaster county barns, I'd wager you won't be disappointed. Their combination of quality and customer service is rare, in my experience.
Well-Oiled Machine
The crew was something to watch, the definition of a "well-oiled machine"!
Thank you again for your help with the shed, it looks great and should provide Lee and his team with much needed storage for many years to come!