Client Reviews
Dream Car Creates Need for Storage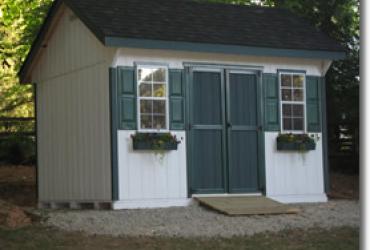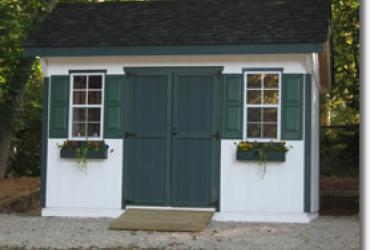 Dear Lancaster County Barns,
We decided that we needed a storage shed when my wife recently bought her "dream car", a convertible. We realized we had no room in our garage to park it in due to the accumulation of 10 years worth of "stuff" the kids and we have outgrown or don't use anymore. We then realized we desperately needed storage space. So I started my hunt to find a shed.
We found Lancaster Barns on the internet. I thought to myself "this is easy; I can shop from home and get what I need."
Once I contacted customer service they were always friendly, responsive and timely. This is one of many reasons why we decided to use Lancaster Barns. Don't get me wrong we looked at other suppliers of sheds of course as I like to get a good deal. We were impressed with the service we received over the phone, the style and choices of sheds offered by Lancaster Barns and frankly, the reputation of the Amish workers who built it for us.
The delivery was pretty flawless. Ben, the foreman, called in advance on the day of delivery to confirm the time and to make sure the directions to our house were accurate. The crew arrived within the hour as promised. When Ben arrived, he introduced himself, reviewed the site and made sure the placement would be exactly as we wanted. He even apologized in advance for any (very minor) broken branches incurred in moving the shed from the truck.
The quality of the shed is excellent. The doors and windows are all in alignment and the "fit and finish" is perfect. We would not only purchase another product from Lancaster Barns, but we have also recommended your company to our friends.
So far, we continue to admire the quality and workmanship of our shed. What we really like about it is that the shed itself is so attractive, it fits into our landscaping. There is no reason to "hide it" in the back yard. Compared to the sheds available from Home Depot, Lowes, etc., this is one big reason we went with your company. Your products, in terms of quality and appearance, are just clearly superior.
The one thing that really impressed me with your company is that everyone delivered on their promises, from the help we received in getting the shed we wanted, to the building crew arriving on time and doing a quality job. 
Thanks again!