If you have items that need protection from the outdoor elements and you've run out of garage, basement, or attic space, there's a good chance you've thought about purchasing a shed. They're a popular and convenient storage option thanks to their practical design and value.
The other great thing about sheds is they're versatile structures that can be adapted to meet a wide range of needs beyond just storage. Customizing the size of a shed along with the siding, roofing, and other material selections can make the structure suitable for most any application you can think of.
Here are some other popular uses that show just how versatile shed structures can be: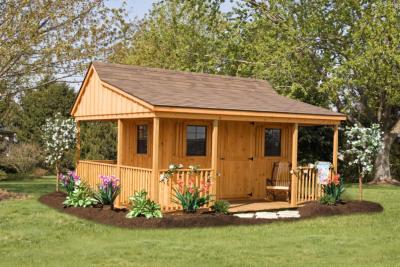 #
1 – Cabin Shed
Thinking about a simple living space? Consider investing in a cabin shed. These sheds are typically smaller than a full-size cabin but larger than a typical shed.
Cabin sheds can serve multiple functions, and the materials used in building one can vary. However, common material choices include board and batten pine wood and simulated logs as well as T1-11, vinyl, and cedar siding.
A few popular shed cabin options from Lancaster Barns include the Standard Board & Batten Scenic Cabin, Standard Board & Batten A-Frame Cabin, and Heritage Cabin.
Depending on its intended use, cabin sheds may or may not get outfitted by the owner with electricity, plumbing, and heating systems. Its most basic features typically include a sleeping area, kitchenette, and bathroom.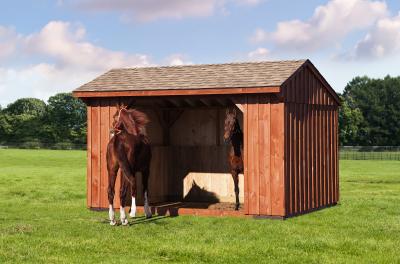 #2 – Animal Sheds
Sheds can easily be designed and built for use with all sorts of animals. They serve as basic shelters for smaller livestock like chickens, ducks, rabbits and can also be used for larger animals like goats, sheep, pigs, and alpacas.
When used for animal shelter, the shed includes a covered space where animals can be protected from rain, wind, and other extreme weather situations.
Sheds can also be designed to function as a simple stable or barn structure for larger livestock like horses. Individual stalls can be installed for each animal to ensure they have a safe and comfortable place to rest. 
An animal shed can take on lots of other uses besides protecting animals:
Hay and feed storage
Poultry house for egg-laying and roosting
Quarantine/isolation area for ill animals
Shearing shed for wool-producing animals
Equipment storage – feeding troughs, water containers, grooming tools
If you're designing a shed for use with livestock, it's important to make sure you have proper ventilation features and appropriate flooring. And consider the necessary security features to prevent unauthorized access.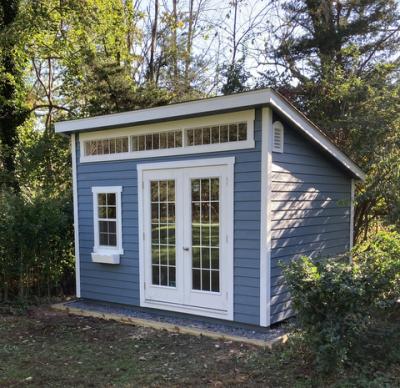 #3 – Home Office in a Shed
A backyard office shed can be the perfect dedicated workspace away from all the distractions of a main living quarters.
And when it comes to the look of your home office shed, anything goes! Choose a classic look that matches or complements your main home's exterior. Or go all out with a modern office shed. Backyard office sheds from Lancaster Barns are available in a variety of siding types and rooflines.
When setting up your shed office, consider these important elements to ensure you have a space that not only looks good but also functions well for your work needs.
Meeting Space.
If you do a lot of video calls, set up an area for virtual meetings with a clean, simple background, good lighting, and comfortable seating.
Storage.
Whether it's integrated into the physical shed design or added after, incorporate enough storage space for office supplies, files, and other work-related items. This can be done via a closet, cabinets, shelves, or drawers.
Furniture.
Choose furniture that's comfortable and also maximizes the use of the office shed space. This helps to create an efficient workflow.  
Natural Surroundings.
Place your home office shed in a location with great views! And position your desk near a window to enjoy the natural light and outside views.
#4 – Hobby Sheds
The primary job of a hobby shed is to create a personal yet functional space where people can engage in the hobby of their choice without distractions from the outside world.
Typically located on an individual's personal property, either in a backyard or garden, a hobby shed can be utilized in lots of ways. Here are just a few popular uses:
Photography studio
Music room
Sewing room
Reading/writing retreat
Model railroad making
Home brewery
Fitness space
Questions About a Shed Project? Our Team Can Help.
Connect with our knowledgeable experts today to get started on designing your Lancaster Barns shed – custom-built by local, skilled craftsmen.